The major international airport in Cyprus is Larnaca International (LCA), 4 miles (6.5 km) southwest of Larnaca and 31 miles (50 km) south of Nicosia.
There are no direct flights between Cyprus and the United States. Cyprus Airways and British Airways fly direct from London to Larnaca and Paphos. Cyprus Airways also operates from Manchester and many continental and Mediterranean cities. Other carriers include KLM from Amsterdam and Swissair from Zürich.
Getting to the Conference Hotels:
The easiest and fastest way is via Taxi which can be hired right outside the Airport terminal. The fare is between 25-28 Cyprus pounds and it takes up to 30 minutes.

The very name Cyprus, it has been said, shimmers with an ages-old mystique. Today, history and hedonism are comfortably intertwined on the island. Ravishing five-star resorts within walking distance of well-preserved Greek and Roman ruins offer every amenity the modern traveller has come to expect and more, from knock-out pools, gardens and beachfronts to state of the art thalassotherapy health spas. One of the most impressive archaeological sites, the ancient city kingdom of Kourion, overlooks a magnificent stretch of beaches with a sparkling blue sea beyond. Along the island's sun-kissed coastline, from Agia Napa in the east to Pafos in the west, world-class beach resorts alternate with settings untouched since antiquity.

In addition to registering to attend the conference, you should also separately reserve a hotel room at the Grecian Bay Hotel, where the conference will be held, or Grecian Sands Hotel. The following table shows the special rates given for the conference attendants. All rates are in Cyprus Pounds (CYP).
Currently £1 CYP = $2.15 to $2.2 USD


Grecian Bay
Grecian Sands
Rate for twin room*
£66
£46
Rate for single room*
£48
£36

This is a secure web server, so your reservation information and credit card number are protected.

Alternatively, you can download a reservation form and send it back by fax or by physical mail. The reservation form is available in Acrobat PDF format, or Word document format.

The cut-off date for reserving rooms at special rates is 5:00 p.m. local time at the hotel on April 30, 2005. Please note that there are a limited number of rooms at this discounted rate and that these rates also include breakfast.

* The rooms provided are sea view or side sea view. Sea view rooms will be assigned on a first-come first-served basis. Strict order will be enforced.

Top hotels offer a good variety of both local and international food at competitive prices; large buffets are especially popular. Meals in local restaurants or tavernas usually start with mezes (appetizers), followed by kebabs, dolmas, stews, fresh fish, and lamb dishes. Meals end with fruit or honey pastries and Greek coffee. By law, all establishments must display a menu with government-approved prices, which include the 10% service charge and 8% value-added tax. Food is relatively cheap and the quality is good.

Archbishop Makarios III Cultural Foundation Archbishop Kyprianou Sq., Nicosia, tel. 22/430008
Housed in a wing of the archiepiscopal palace built in 1960 in neo-Byzantine style, the Cultural Foundation consists of the Byzantine Art Museum, home to a fine display of icons spanning 1,000 years, and the Greek War of Independence Gallery, which features a collection of maps, paintings, and mementos of 1821. Weekdays 9-4:30, Sat. 8-noon.
Byzantine Museum 7 Andreas Ioannou St., Paphos, tel. 26/231392
This museum houses notable 6th-century mosaics and icons. Oct.-May, weekdays 9-5, Sat. 9-2; June-Sept.,weekdays 9-7, Sat. 9-2.
Cyprus Folk Art Museum Archbishop Kyprianou Sq., Nicosia, tel. 02/432578
Housed in the 14th-century part of the archiepiscopal palace, this museum has demonstrations of ancient weaving techniques and displays of ceramics and olive and wine presses. Weekdays 9-5, Sat. 10-1.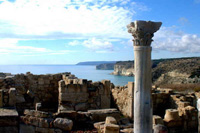 Cyprus Museum Museum St., Nicosia, tel. 22865864
Located outside the city walls near the western Paphos Gate, the Cyprus Museum has archaeological displays ranging from neolithic to Roman times. This stop is essential to an understanding of the island's ancient sites. Mon.-Sat. 9-5, Sun. 10-1.
Phikardou Machairas Alicosia Rd., Phikardou, tel. 22337715
In this museum village south of Nicosia, many rural houses have remarkable woodwork; they also contain household furnishings used a century ago. Official tour guides are available in the village. Hours vary.
Laiki Yitonia
The Greek sector at the southern edge of the Old City is an area of winding alleys and traditional architecture undergoing renovation.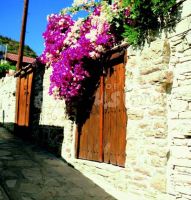 Among the city's most important sites is the Archbishopric, which houses several museums. Tavernas, cafes, and crafts workshops line the shaded, cobbled streets. To the west is Ledra Street, where modern shops alternate with yet more crafts shops.
Head north to visit the tiny Greek Orthodox Tripiotis church (Solonos 47-49), which dates from 1690 and is decorated with ornate, carved golden iconostasis (shrines) and silver-covered icons.

Birthplace of Aphrodite
Petra tou Romiou, the legendary birthplace of the Greek goddess of love and beauty, is just off the main road between Limassol and Petra. Signs in Greek and English identify the offshore rock viewed from the shoreline.
Kition Kyman St., Larnaca
The old Larnaca of biblical times, Kition was one of the most important ancient city-kingdoms. Architectural remains of temples date from the 13th century BC. Weekdays 9-2:30.
Tombs of the Kings Kato Paphos, Paphos, tel. 06/240295
This early necropolis dates from 300 BC. The coffin niches are empty, but a powerful sense of mystery remains. June-Sept., daily 8:30-7:30; Oct.-May, daily 8-5.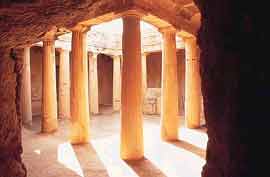 Roman Mosaics Kato Paphos, Paphos, tel. 26/240217
Don't miss the elaborate mosaics in the Roman Villa of Theseus, the House of Dionysos, and the House of Aion. The town bus stops nearby. June-Sept., daily 7:30-7:30; Oct.-May, daily 8-5.

In Association with