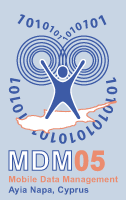 MDM 2005
6th International Conference on Mobile Data Management

Sponsored by University of Cyprus

In Cooperation with ACM SIGMOBILE and ACM SIGMOD

Ayia Napa, Cyprus, May 9-13, 2005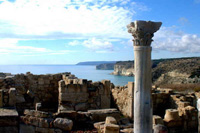 Panel Tracks
Session/Activity

Time

Day 2, 10 May, 2005
Panel Session 1: "Mobile Peer-to-Peer Computing: Challenges, Metrics and Applications".
Panel Organizer: Vana Kalogeraki
Department of Computer Science & Engineering, University of California, Riverside

10.50am-12.30pm

Abstract

The pervasiveness of computers in our current society (transportation, e-commerce, home appliances, medical monitoring, process control) expands our freedom for flexible ad-hoc communication and dynamic collaboration between individuals through a wide variety of devices. With the pervasive, deployment of computers, the Peer-to-Peer (P2P) model is increasingly receiving attention for direct and symmetric interaction and to perform critical functions in a decentralized manner. Some of the benefits of a P2P environment include its ability for self-organization, scalability for avoiding dependency on centralized servers, resource aggregation and adaptation to different loads, resiliency to node failures and lower cost of ownership and cost sharing. The goal of this panel is to explore the synergy of these two technologies, identify the challenges along with their shortcomings and explore promising approaches. Towards this end, we have identified a number of issues that must be addressed:


Middleware support for mobile P2P computing.
Resource discovery and data dissemination in mobile P2p networks.
Real-time support for user applications.
Metrics for evaluating the middleware infrastructure
Decentralized and transparent resource management
Applications of mobile P2P computing

Day 3, 11 May, 2005
Panel Session 2: "Mobility in Sensor Networks".
Panel Organizers: Alexandros Labrinidis*, Anthony Stefanidis**
*Department of Computer Science, University of Pittsburgh
**Department of Spatial Information Science and Engineering, University of Maine

10.50am-12.30pm

Abstract

Sensor networks are promising unprecedented levels of access to information about the physical world, in real time. Many areas of human activity are starting to see the benefits of utilizing sensor networks, in almost all such cases, sensor networks are statically deployed. The next evolutionary step for sensor networks is to handle mobility in all its forms. This panel aims to identify the benefits from such a step and recognize the resulting research challenges.
In Association with