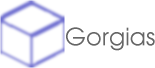 ---
News
The Gorgias system is currently unavailable.

WHAT is Gorgias?

Gorgias is a general argumentation framework that combines the ideas of preference reasoning and abduction.

WHERE can I get Gorgias?

You can download the latest release of Gorgias from our download page.

Gorgias is available under the GNU General Public Licence, which makes it free (as in speech) software.

HOW do I work with Gorgias?

Check out the tutorial, and the syntax.

Report a bug, request a new feature, or send patches and examples.
---
This work is partially funded by the European Union 5th framework project SOCS (IST-2001-32530).